Our Approach to Rebranding the City of St. Paul: Audience Understanding to Inform Strategy + Design.
Community and city rebranding has quickly become one of our favorite types of projects to tackle.
While rebranding a city can be very rewarding for everyone involved, it is no small feat. With a variety of audiences and stakeholders involved, it is important that the brand resonates, evokes a sense of pride in the community and attracts new visitors, residents and businesses. Additionally, each city and community has decades of history, and it is important that that history is understood and not forgotten.
In 2020, we rebranded the City of St. Paul, Nebraska; a charming and progressive community in Central Nebraska that wanted to better position their city for the future.
In order to ensure we had a deep understanding of the community and its audiences, we conducted in-depth qualitative research. 1-on-1 interviews were conducted with the city council, area businesses, private citizens and leaders of all ages and backgrounds.
Throughout our research, we were looking for insight into what separates St. Paul from other small Nebraska and Midwestern towns. An overwhelming theme was uncovered: Small-town America is often just that, small.
St. Paul offers all of the qualities that people look for in small-town America (close-knit community, proud and invested citizens, small-town values, a safe place to raise a family, unbeatable quality of life) as well as opportunities that often aren't found in small towns (top-notch heath care and schools, a distillery and winery, boutiques, a progressive and forward-thinking leadership team). St. Paul truly is an idyllic small town with big-city amenities.
Once we uncovered this truth, it was important that new brand identity communicated these findings.
Part of the new identity was the creation of a new tagline. For the City of St. Paul, it was important that we establish a new tagline that was welcoming, unifying and expressed what truly makes them unique.
We developed a tagline that we felt encompassed the spirit of St. Paul, "Our big, little community". The use of the word "our" created a sense of ownership and togetherness for the citizens of the community to rally
around, while also expressing what makes them unique in a positive, idyllic tone.
The brand design followed a similar tone. Sophisticated typography was paired with friendly colors and illustrations, creating a balance of modernity and charm—qualities of the St. Paul community.
By understanding the needs of each of St. Paul's audiences and uncovering real truths, past and present, about the city of St. Paul, we were able to craft a unique and ownable brand identity for the city to embrace for years to come.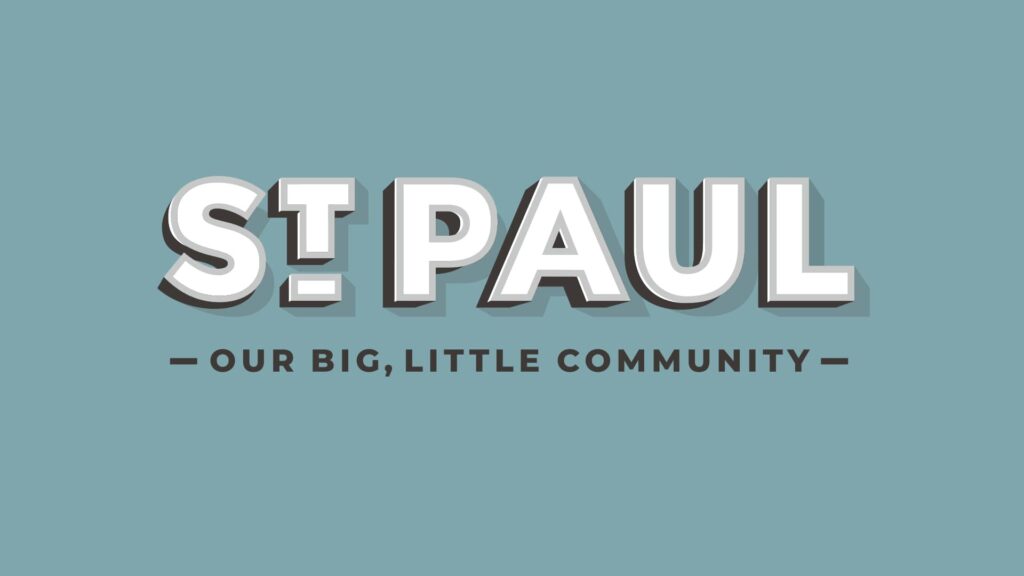 Do you have questions about rebranding a city or community?